Kelowna Art Galleries: The Best Places to Buy Art in The Okanagan
From hole-in-the-wall studios to well-established Okanagan art galleries, this post shows you the best places to buy original artwork for your Kelowna home.
The Okanagan's gorgeous scenery has inspired a range of Canadian and Kelowna artists like Ken Gillespie, Robyn Lake, David McLean, Anita Skinner, and Aunaray Clusiau. You can find their artworks for sale at the following Kelowna art galleries.
Image courtesy of Joshua Peters at Hambleton Galleries
Hambleton Galleries
Located downtown in Kelowna's Cultural District, Hambleton Galleries has an extensive collection of original paintings, sculptures, glasswork and ceramics for sale from Canadian artists like Don Berger, Leslie Bolin, and Ronan Boyle. Their entire collection is browsable online, and they offer complimentary art installation and design consultations with free delivery in Kelowna. Hambleton Galleries has regularly changing exhibitions of individual Kelowna artists in addition to seasonal showcases featuring multiple artists with works for sale.
Hambleton Gallery Kelowna
https://hambletongalleries.com/index.php
1290 Ellihttps://www.artlovers.ca/s St, Kelowna, BC V1Y 1Z4
Phone: (250) 860-2498
Image courtesy of Marianne at the Tutt Street Gallery
Tutt Street Gallery
Tutt Street Gallery is located in the heart of Kelowna's vibrant and artsy Pandosy village. Tutt's finely curated gallery specializes in original contemporary Canadian oil and acrylic paintings.
Featuring works by Terry Ananny, Jane Appleby, and Erica Hawkes, the gallery hosts public, private and corporate art shows, as well as framing, delivery and installation services for Kelowna area residents.
Tutt Street Gallery
http://www.tuttartgalleries.ca/artist-index.html
3045 Tutt St, Kelowna, BC V1Y 2H4
Phone: (250) 861-4992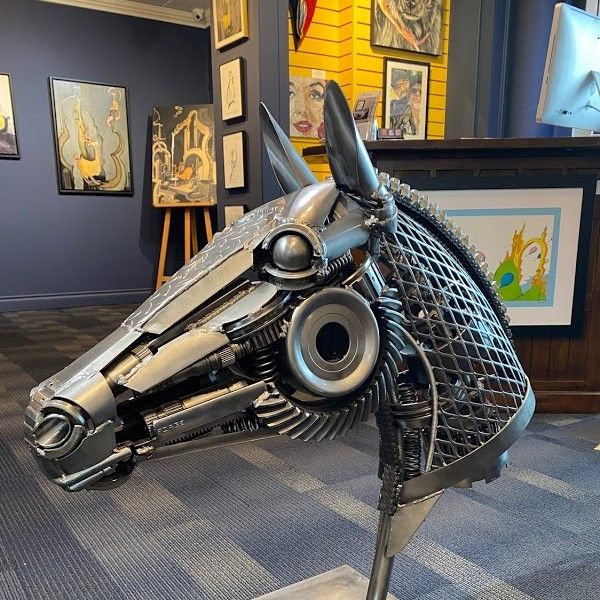 Art Lovers Gallery
Art Lovers Gallery is a boutique art shop located in the Delta Grand Hotel lobby at 1310 Water Street in Kelowna's Cultural District. Art Lovers Gallery features paintings, photography, glasswork, and sculptures by local Canadian and Kelowna artists; there's also a significant collection of nostalgic artwork by the famous Dr. Seuss.
If you're near the Waterfront Boardwalk, pop by Art Lovers Gallery to meet the owner, Dave and the rest of the Art Lovers family.
Art Lovers Gallery
1310 Water Street Delta, Kelowna, BC V1Y 9P3
Phone: (778) 215-3614
SOPA Fine Arts
Deborah at SOPA Fine Arts in Kelowna, BC is well-known for her expertise on contemporary art and her ability to turn the art-buying experience from something intimidating into an exciting personal journey. Located in the South Pandosy neighborhood, SOPA Gallery Kelowna has a selective collection and rotating exhibits and artwork for sale beginning the first Thursday of each month.
The finest of modern painting, sculpture and assemblage is displayed at SOPA, whose art collection tends towards the abstract. The gallery partners with local, national and international artists, and offers private consultations at your home gallery or office to help you find the best art for your Kelowna property.
SOPA Gallery Kelowna
2934 Pandosy St, Kelowna, BC V1Y 1V9
Phone: (250) 763-5088
Image courtesy of Ken at Gallery 421
Gallery 421
Located in the south Pandosy Village, Gallery 421 features a curated collection of artwork for sale by over thirty Canadian and international contemporary artists like Les Dunlop, Jonn Einerssen, and Eduard Gurevich. Offering everything from acrylic and oil paintings to sculptures and captivating blown glass pieces, Gallery 421 is a great place to find your next piece of home decor in Kelowna, BC. Gallery 421 also provides art consultations, framing services, Kelowna-wide delivery, and art restoration services.
Gallery 421
560 Raymer Ave, Kelowna, BC V1Y 4Z5
Phone: (250) 448-8888
Image courtesy of Niel at Picture Perfect & Perpetual Blooms
Picture Perfect & Perpetual Blooms
Picture Perfect in downtown Kelowna juggles a handful of art-related endeavours: their gallery specializing in selling Okanagan contemporary art, custom framing services, and beautiful silk flowers from Perpetual Blooms. Picture Perfect has been in Kelowna for over thirty years and features artists like David Daase, Douglas Morgan, and Jaxon Jurome. Their eclectic art gallery has everything you need to outfit your Kelowna home with works by the Okanagan's most talented artists.
Picture Perfect & Perpetual Blooms
https://picture-perfect-kelowna.com/
543 Lawrence Ave, Kelowna, BC V1Y 6L8
Phone: (250) 763-6966
Karmyc Bazaar
Karmyc Bazaar is a funky modern art shop in Kelowna's downtown with a small gallery displaying works by local painters and sculptors. The art shop features works by over 90 Canadian artists - many of them specific to Kelowna and the Okanagan area. The Karmyc Bazaar carries all kinds of mixed media art, prints, pottery, jewelry, and apparel to round out your art collection in your Kelowna home.
Karmyc Bazaar
https://www.karmycbazaar.com/
1603 Pandosy St, Kelowna, BC V1Y 2A8
Phone: (250) 859-4174
Lake Country Artwalk
If you're looking for a family-friendly event to entertain, experience art, and connect with the Okanagan art community, check out the Lake Country ArtWalk festival. This annual art event happens every September at the Lake Country Community Complex, displaying local artists' work in tandem with live music performances, hands-on art activities for kids, and food from local vendors.
Find out more about the ArtWalk: http://lakecountryartwalk.ca/
Lake Country Community Complex
10241 Bottom Wood Lake Road, Lake Country, BC
Now go enjoy a cultural Saturday afternoon browsing art galleries, meeting the passionate men and women behind the finest collections in town, and find that perfect piece to start a beautiful legacy in your Kelowna home.
Featured Image credit: Jonny Caspari