The Best Beaches in Kelowna
Kelowna is one of the best cities in the Okanagan to soak up the sunshine. With summer holidays right around the corner, we're rounding up our picks for the top 5 beaches in Kelowna.
1. Gyro Beach
Gyro is Kelowna's most popular beach. With soft sands, shallow water, and a zipline swing, it's also one of the best beaches in Kelowna for families.
Gyro is always bustling in the summer with stand-up paddleboard rentals, beach volleyball, outdoor ping pong, and a lot of sunbathers.
Hit up the iconic apple-shaped concession for a hot dog, an ice cream cone, or a cold drink. After the day at Gyro you're walking distance from a number of great restaurants and bars down Pandosy Avenue.
2. Hot Sands Beach – City Park
Hot Sands Beach is located in City Park right in the heart of downtown Kelowna. With outdoor volleyball, tennis, basketball, a skateboard pit, a waterpark, and lawn bowling, there's literally something for everyone.
In the summer, Hot Sands beach hosts Kelowna's floating adventure playground that's very popular for families with young children. End your beach day with dinner at Earl's patio or check out the downtown nightlife on Bernard Avenue.
3. Tugboat Bay – Waterfront Park
Tugboat Bay is a sandy beach with change rooms and paddleboard rentals at the north end of Kelowna's waterfront promenade. When you've had enough sun take a stroll through the manicured gardens of the Delta Grand Hotel, enjoy nature at the Rotary Marsh bird sanctuary, or try your chances at Lake City Casino. Tugboat Bay is right next to Kelowna's cultural district with a number of great restaurants, tasting rooms, coffee shops, and microbreweries.
4. Strathcona Beach
Strathcona beach is located south of downtown and next to the Kelowna General Hospital. Strathcona Park has public washrooms, a kids' playground, grassy areas, and plenty of shade. After the beach, take a walk through Maude Roxby Bird Sanctuary or head down Pandosy Ave for a bite to eat.
5. Paul's Tomb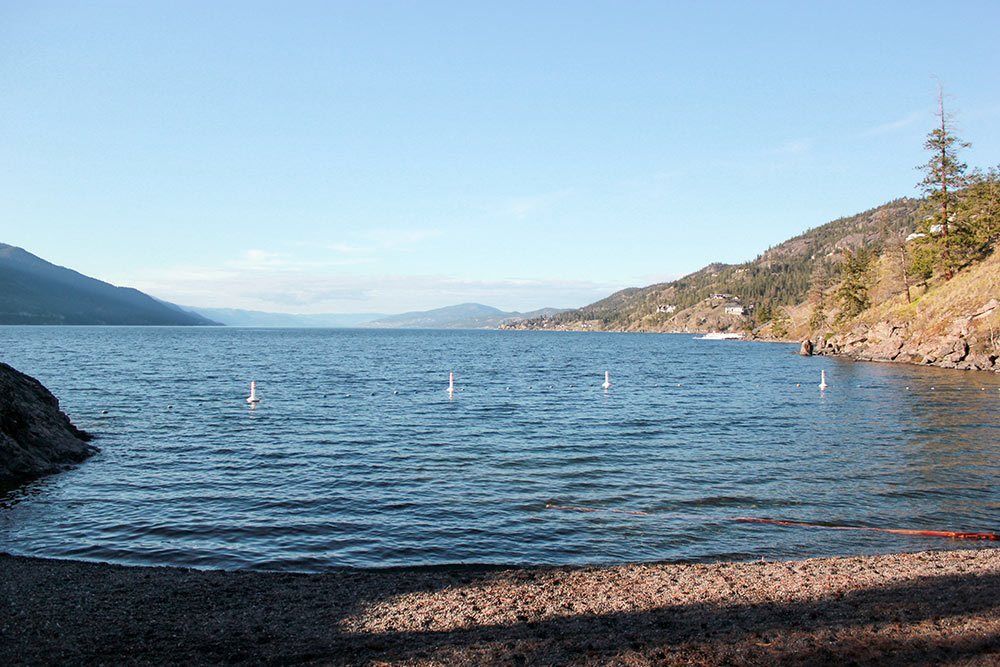 For the more energetic types, or for those looking for seclusion, Paul's Tomb is our top pick for the best beach in Kelowna. A gentle 5km hike from the north end of Poplar Point Drive leads you to a pebbled, dog-friendly beach with spectacular lake views. There's a picnic table, an outhouse, and some very mellow cliff jumping. After, continue your hike up the Lochview Trail to the top of Knox or take in a round of waterfront disc golf.